Méduse's story
In 1946, the leather market is hit by a shortage due to the war, inspiring the idea of replacing leather with plastic (PVC). So starts the story of our sandal, a story that continues today thanks to Humeau-Beaupréau.
Popular in the 80s, the plastic sandal produced by Sarraizzienne saw a decline in the 2000s leading to a full stop in production a few years later. In 2003, the Humeau-Beaupréau group took over the business, buying the moulds of the legendary Méduse; the famous sandal lived on. 
Production is launched once more in 2010 and the collection welcomes new models in 2012, from colourful rain boots to plastic pumps. 
Teamwork
170 employees work in our workshop to brighten your holidays and rainy days, in our factories in Beaupréau, Maine-Et-Loire. 
Even our plastics are French, meeting the highest standards of safety to ensure the best quality of our products. Indeed, all our models meet the REACH and INNOSHOE standards.
Méduse shoes are a declaration of love to France. Today, 99% of our models are manufactured in France, including, since 2018, the SUNTRI and SUNMIF models. 
100% recyclable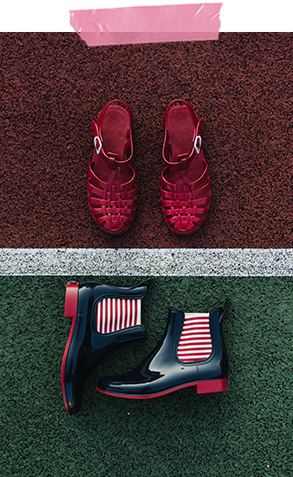 Yes, our shoes know many lives thanks to our recyclable plastic. If they're not passed on from one generation to the next, they can become garden hoses or a Tam Tam stool, who knows. It's the ciiiircle of liiiife, the eternal cycle!
New website, new life
Stronger than ever, we parted with our old website to move in the professional league with a new site, super pretty, super easy, completely Méduse.
With this new look comes a range of new features, including a blog where we interview inspiring people.
It's thanks to you!
For more than 70 years, we have been celebrating the Made in France with quality products, from our iconic SUN sandal to our low and high boots, and we could not have done it without you, so thank you.